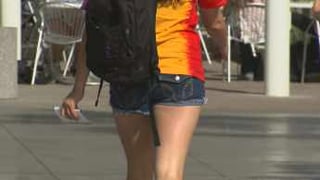 ASU
TEMPE, AZ (CBS5) -
Police at Arizona State University are searching for a man who struck two female students on the buttocks with his open hand in separate incidents on campus.
The students were not injured, ASU police said.
The incidents took place Wednesday at about 4:30 p.m. in different locations of the common area on the first floor of a Tempe Campus residence hall.
Police said the suspect was aggressive after the assaults until the victims told him to stop and leave.
The man is described as 6'2" tall with a medium build. He had dark, short hair with a thin mustache.
People with any information about the assaults are asked to call the ASU Police Department at 480-965-3456.
Copyright 2012 CBS 5 (Meredith Corporation). All rights reserved.