The Climate Prediction Center (CPC) released the latest El Niño discussion Thursday morning. The CPC says "While the subsurface and surface Pacific Ocean has recently warmed, the tropical atmosphere remained largely consistent with ENSO-neutral. Upper-level and lower-level winds were near average, and the strength of anomalous convection decreased over the past month (Fig. 5). Thus, the atmosphere and ocean continue to indicate borderline ENSO-neutral/ weak El Niño conditions."
Basically that means while the ocean is showing signs of an El Niño, the atmosphere is not at this point. But all hope is not lost. Generally there is a lag between the ocean and atmosphere as a late-year El Niño forms. That means the atmosphere may begin to show signs of El Niño as we head into winter. This would be good news for the Southwest.
Warmer than average sea surface temperatures in the eastern equatorial Pacific Ocean are known as El Niño. Sea surface temperatures in this area influence weather across the globe by shifting seasonal wind flow patterns. Here in the Southwest an El Niño during the winter generally means wet weather. However, the amount of rain is extremely variable.
The below colorful graphic shows all the computer model predictions for El Niño. An El Niño is named when the sea surface temperature reaches 1/2° above average. The different colored lines show all the different model predictions in three month blocks. (At the bottom, SON represents September/October/November, etc.) Most of the models have the weak El Niño continuing through the winter with a weakening of conditions in the spring.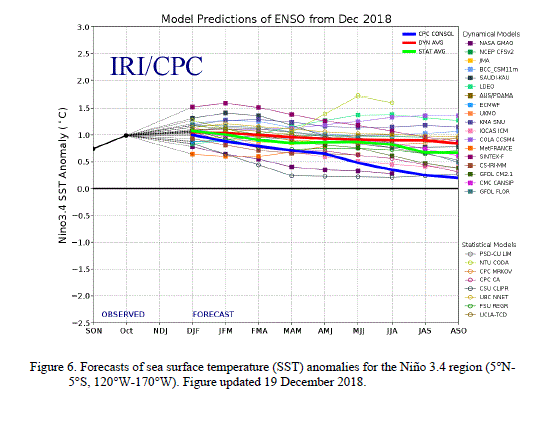 Arizona badly needs a wet winter. The latest U.S. Drought Monitor update shows just how bad the state needs rain. The entire state is experiencing some level of drought except a thin sliver in the northwest that follows the Colorado River Valley. Tucson sits over 3.5" below average rainfall for the year. Right the yearly rain total at the airport is only 6.70".