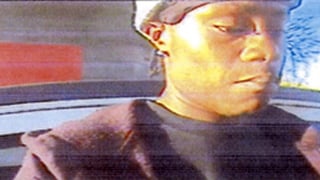 Suspect caught on surveillance cam. (Source: Silent Witness)
PHOENIX (CBS5) -
Phoenix police said a crook armed with a gun and a knife forced his victim to sit inside his car while he cleaned out his bank account.
The robbery happened at the Bank of America near 44th Street and Thomas Road.
Surveillance video showed the man walk up to the car and take over the transaction while standing in between the vehicle and the ATM.
"The public needs to always be aware of their surroundings and environment, especially when making transactions at these ATM kiosks and other locations with money transactions," said Phoenix police Sgt. Darren Burch.
Bank officials said you should always have your card ready when you pull up to a drive-thru ATM.
Another rule of thumb is to leave plenty of space between you and the car in front of you so you can pull away if you need to. If you don't feel comfortable, leave.
Copyright 2013 CBS 5 (KPHO Broadcasting Corporation). All rights reserved.