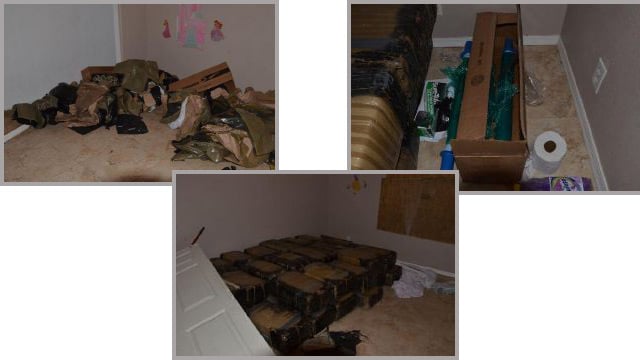 Sheriff's detectives said they found a half-ton of pot in a van Monday and that the house where the driver was seen leaving was believed to be a marijuana repackaging site. (Source: Maricopa County Sheriff's Office)
PHOENIX (CBS5) -
A 31-year-old man was arrested and booked into jail on several felony drug charges after nearly 1,000 pounds of marijuana were found in the van he was driving Monday in Glendale, according to a Maricopa County Sheriff's Office news release.
Nunez Efrain was driving the van that deputies said contained close to $500,000 in pot. Detectives said the van was visibly weighted down and followed Efrain to a house on West Maryland Avenue in Glendale, where he pulled into a garage and closed the door.
Detectives pulled him over after he left the house and noticed the strong odor of marijuana. They found 39 bundles of plastic-wrapped marijuana bales.
He told detectives he was taking the van for a test drive.
Detectives said the home is believed to have been a center for repackaging marijuana and that several rolls of industrial plastic wrap were found in the house.
Copyright 2013 CBS 5 (KPHO Broadcasting Corporation). All rights reserved.