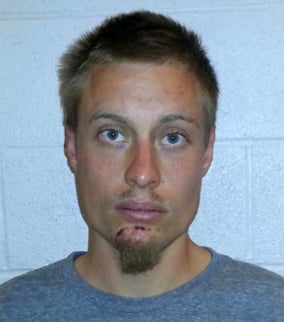 Michael Gentilcore (Source: Prescott Police Department)
PRESCOTT, AZ (CBS5) -
A 25-year-old Prescott man was arrested Tuesday after he allegedly assaulted his live-in girlfriend's children.
Michael Gentilcore was booked into Yavapai County Jail on charges of aggravated assault, criminal damage and disorderly conduct.
The alleged incident occurred Monday night at the apartment he shares with his girlfriend, 33-year-old Jamie Geber.
Geber told police her boyfriend became upset with her 7-year-old son and hit him in the stomach, which knocked the boy down, police said. Gentilcore then allegedly pulled the boy's hair.
At that point, the boy's 15-year-old sister attempted to defend her brother, officers said. Gentilcore put her in a head lock and punched her in the face several times, police said.
An 18-year-old friend was visiting at the time, and when he attempted to restrain Gentilcore, he was also punched in the face several times, police said.
Gentilcore also punched a hole in the wall of the apartment and then fled the scene before officers arrived, police said.
Gentilcore was located by police the next day at a friend's home in Prescott and was taken into custody.
Copyright 2013 CBS 5 (KPHO Broadcasting Corporation). All rights reserved.