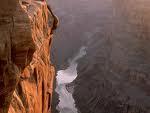 GRAND CANYON NATIONAL PARK, AZ (CBS5) -
A motion to overturn the Obama administration's ban on new uranium mining on 1 million acres near the Grand Canyon has been denied by a U.S. District Judge.
The mining constraint was set in place in January 2012 with the intention of protecting the Grand Canyon's watershed.
Judge David Campbell denied the uranium industry's motion to overturn the ban and the underlying federal authority to enact withdrawals on mining sites larger than 5,000 acres.
If the motion had been successful the uranium industry's grievance would have eliminated the Interior Secretary's authority to protect large tracts of public lands from mining.
"The uranium industry was hoping to cripple the Interior Department's ability to temporarily protect lands from destructive mining. Today's opinion upholds the Interior Department's authority to take such protective measures," said Ted Zukoski of Earthjustice, one the attorneys representing conservation groups and the Havasupai tribe in the case.
Copyright 2013 CBS5 (KPHO Broadcasting Corporation). All rights reserved.