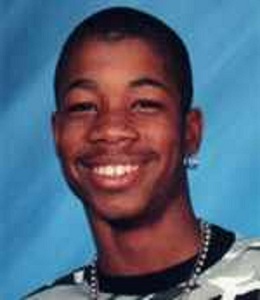 (Source: Glendale Police Department) Stephon Wickware, help solve his cold case
GLENDALE, AZ (CBS5) -
The 10-year anniversary of the killing of 17-year-old Stephon Wickware is just days away, and the Glendale police still need the public's help in solving this cold case.
Wickware left his girlfriend's house the night of March 27, 2003 heading to the bus stop to go home when he was shot near 58th Avenue and Glendale Avenue in Glendale.
Witnesses of Wickware's shooting told Glendale police that they saw a Hispanic male ride off on a bicycle shortly after the shots were fired. According to police, the Hispanic male 10 years ago was described as being between the ages of 18 to 20 with a small build.
No motive has been found for the shooting of Wickware.
Glendale detectives are asking that anyone with information about this crime call the Glendale Police Department at 623-930-3000 or call Silent Witness at 480-WITNESS. You can remain anonymous. You can also visit the Glendale Police Department's cold case website at http://www.glendaleaz.com/police/coldcaseinformation.cfm.
Copyright2013 CBS5(KPHO Broadcasting Corporation). All rights reserved