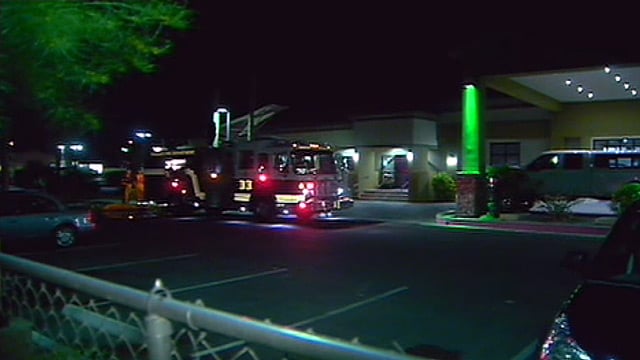 A Holiday Inn near I-17 and Cactus Road was evacuated a second day in a row when natural gas was smelled in the building. (Source: CBS 5 News)
PHOENIX (CBS5) -
A Holiday Inn in Phoenix was evacuated for the second day in a row when the odor of natural gas seeped into the building Tuesday morning.
Southwest Gas employees were venting the ground from a natural gas leak that occurred Monday near the hotel near Interstate 17 and Cactus Road when the odor seeped into the building about 4:30 a.m. and triggered calls to 911, according to a Phoenix Fire Department spokesman.
Only 16 guests were evacuated Tuesday, compared with 140 guests Monday.
The spokesman said there was no reading of gas in the building and no leak was found and the guests returned to their rooms.
Southwest Gas continued to vent the ground near the hotel and adjacent businesses.
Copyright 2013 CBS 5 (KPHO Broadcasting Corporation). All rights reserved.