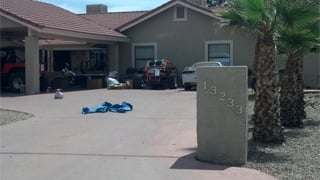 Search warrant served at 133rd Ave. and Beverly in Goodyear. (Source: Christina Batson, cbs5az.com)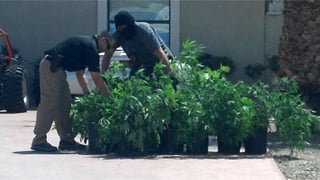 Some of the 100 pot plants found growing inside. (Source: Christina Batson, cbs5az.com)
GOODYEAR, AZ (CBS5) -
A large marijuana growing operation was busted Thursday by the Goodyear Police Department's narcotics unit.
Police were tipped off by an informant and officers arrived at 6:30 a.m. to serve a search warrant on the property at 133rd Avenue and Beverly.
Officers said they located a separate building with about 100 marijuana plants growing inside.
Three people, two men and one woman, were taken into custody, according to Goodyear police Spokeswoman Lisa Kutis.
The Goodyear narcotics unit is only about 6 months old, and this was their first big bust.
Stay with cbs5az.com and CBS 5 News for updates on this developing story.
[Text BREAKING to 23765 to get news alerts on your mobile phone]
Copyright 2013 CBS 5 (KPHO Broadcasting Corporation). All rights reserved.