The Lyrid Meteor Shower is in the sky over Arizona right now.
According to EarthSky.org the "Lyrid Meteors tend to be bright and often leave trails. About 10-20 meteors per hour at peak can be expected around the peak morning on April 22, 2013. Plus, the Lyrids are known for uncommon surges that can sometimes bring the rate up to 100 per hour."
io9.com says the peak will occur in Arizona at 10:30 PM MST on Sunday night.
With the east coast 3 hours ahead of Arizona, the peak is Sunday morning along the Atlantic coastline.
The constellation Lyra rises in the northwest sky at around 10 PM on Sunday night.
Lyra is where most meteors appear to originate from giving the shower its name, Lyrid.
MeteorShowersOnline.com offers the below viewing guide for midnight Sunday night into Monday morning.
SpaceWeather.com has the below viewing guide for early morning risers on Monday.
Sunrise is at 5:47 AM on Monday in Tucson, with the sky starting to lighten about an hour before sunrise.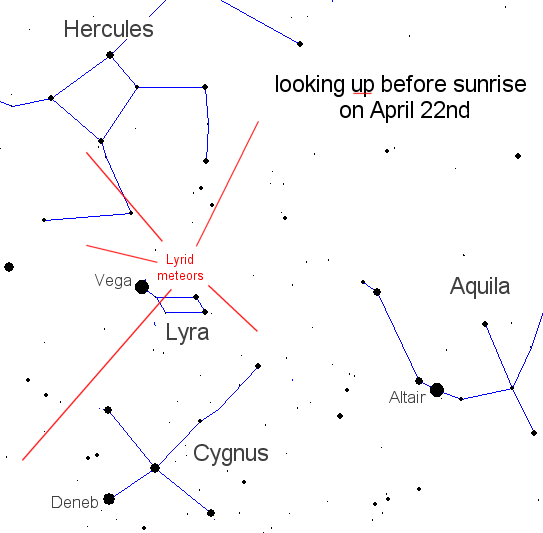 One spoiler is the moon.
A bright moon will rise at 3 PM in the afternoon Sunday and not set until 3:32 AM Monday morning.
The light from the moon will drown out some of the fainter meteors in the sky.
But there should still be plenty of shooting stars to catch your wishes.