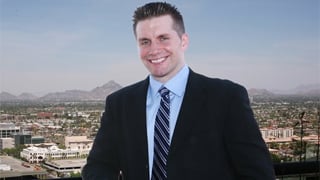 Yuri B. Nielsen
PHOENIX (CBS5) -
A Phoenix attorney has been placed on interim suspension for allegedly mismanaging client funds, the State Bar of Arizona said.
During a one-day disciplinary hearing, the State Bar said that Yuri B. Nielsen mismanaged client funds in multiple cases.
Nielsen testified that he can't account for $428,867.20 in client funds that were withdrawn by him from his firm's Interest on Lawyers Trust Accounts (IOLTA).
Nielsen was placed on interim suspension on Friday while the Bar continues formal disciplinary proceedings.
Nielsen was also ordered to notify current clients of his interim suspension. He is barred from accepting any new cases and prohibited from distributing or transferring funds from any trust account without prior written consent from the State Bar of Arizona or by order of the Presiding Disciplinary Judge.
Copyright 2013 CBS 5 (KPHO Broadcasting Corporation). All rights reserved.