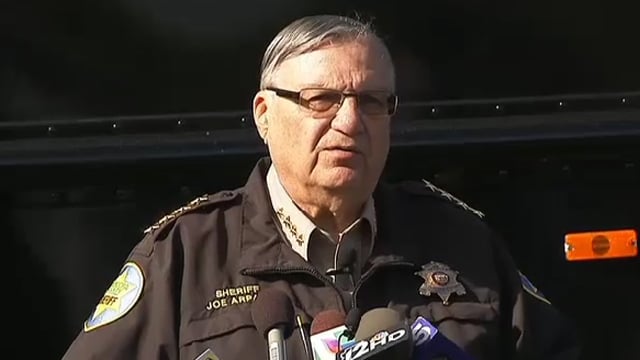 Sheriff Joe Arpaio (Source: KPHO-TV)
PHOENIX (CBS5) -
A grassroots citizens group has filed suit against Respect Arizona, the group that is currently collecting signatures to recall Sheriff Joe Arpaio.
Citizens for the Protection of Fair Election Results is behind the legal action.
CPFER warned that if using recalls to change election results became a trend, it could quickly degenerate into a generalized "Electoral Civil War" that would eventually throw Arizona's electoral system into chaos.
The group said within less than a month of that warning, the anti-Arpaio effort was joined by two new recalls, and the recalls targeted members of both political parties - a Democrat, Arizona House Minority Leader Chad Campbell, and Rep. John Kavanagh, a Republican.
In a statement, the group calls it "a dangerous trend that seriously threatens the integrity of the Arizona electoral system and the rule of law." It cited several reasons:
These recalls are attempts to nullify the constitutional right to vote of every citizen who helped elect any of these three candidates, last November.
These recalls are an injustice to all three candidates: Each one was reelected fairly, and with comfortable majorities. But all three may now face the challenges and costs of running all over again.
The groups filing these recalls are misusing the process by trying to overturn a fair election that was won by a candidate whose policies they do not like.
If these recalls are allowed to go forward, they are going to cost Arizona taxpayers millions of dollars. The Arpaio recall, alone, is billed at $5.5 million. Now two more recalls have been filed. Together, they could cost as much as $15 million. If this trend continues, costs will rise exponentially, bringing fiscal, as well as electoral chaos to Arizona.
If abusive recalls continue to multiply, no election will ever be truly final. No winning candidate will ever stand on firm ground, knowing that a new recall effort can be started at any time, if a decision he or she makes angers any special-interest group.
A threat of a fourth recall has already been reported - this time against Gov. Jan Brewer. With this new threat, the pattern of escalation is plainly visible to anyone in Arizona. When such a pattern becomes this widespread, it's clear that Arizona's electoral system is under attack.
If this new political tactic is allowed to flourish in Arizona, it will soon be used in other states. Arizona will become a model for a new way to tear down the civility and fairness that has always been the hallmark of American elections.
Asked what CPFER plans to do if the Arpaio recall is defeated, co-founder Jim Wise said, "After the Arpaio matter is resolved, we will continue to oppose the recalls against Democrat Chad Campbell and Republican John Kavanagh."
Copyright 2013 CBS 5 (KPHO Broadcasting Corporation). All rights reserved.