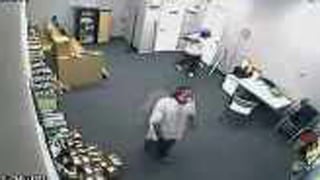 Surveillance image of the robbery in progress. (Source: Chandler Police Department)
CHANDLER, AZ (CBS5) -
Two armed robbers tied up a clerk at a Chandler cell phone store and stole money from a safe, police said.
The men, described as black and in their mid to late 20s, walked into the Cricket Wireless store at 1022 N. Arizona Ave. at 10 a.m. One of them was armed with a handgun, according to Chandler police Detective Seth Tyler.
During the holdup, a female employee was bound by one of the suspects.
Both suspects are between 5'10" to 6' tall with a medium build. The first suspect was wearing a white T-shirt with dark jeans and a North Carolina Tar Heel blue baseball cap.
The second suspect was last seen wearing a white T-shirt with dark jeans and had a black baseball cap with a red bill. The second suspect was also wearing one black glove.
They escaped the store with an undetermined amount of cash.
People with any information about the robbery or suspects are asked to call the Chandler Police Department at 480-782-4130 or Silent Witness at 480-WITNESS.
Silent Witness is offering a reward of up to $1,000 for information that leads to the arrest and/or indictment of the suspects.
Officers ask callers to reference Chandler Police Department report number 13-46760.
Copyright 2013 CBS 5 (KPHO Broadcasting Corporation). All rights reserved.