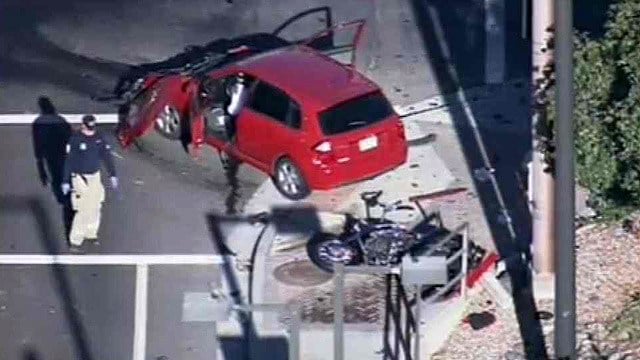 A serious motorcycle accident closed the intersection at 7th and Jefferson streets Friday morning.
PHOENIX (CBS5) -
A 49-year-old man has been killed after he was hit by a car in a Phoenix intersection on Friday morning.
Phoenix Police Department spokesman Sgt. Tommy Thompson said a 25-year-old woman was stopped for the southbound traffic light at Jefferson and Seventh streets. As the light turned yellow, the woman turned left in front of the motorcycle and the vehicles collided.
The motorcyclist, Benjamin Runda, was taken to the hospital where he died.
The woman is expected to survive.
Police are investigating the cause. Thompson said there was no indication that either driver was impaired.
Eastbound traffic on the one-way Jefferson Street was being diverted before the intersection, said Phoenix Police Sgt. Tommy Thompson. Northbound traffic on Seventh Street was closed from Lincoln Street to Jefferson and southbound traffic was closed from Washington Street to Seventh.
Stay with cbs5az.com and CBS 5 News as this story develops.
Copyright 2013 CBS 5 (KPHO Broadcasting Corporation). All rights reserved.