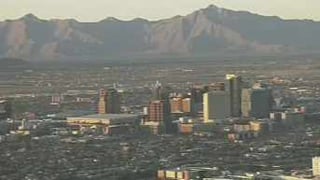 PHOENIX (CBS5) -
Maricopa County voters overwhelmingly approved of plans to build a new South Mountain freeway in two separate polls conducted last week by the We Build Arizona coalition.
The proposed freeway would be constructed on Pecos Road and through South Mountain Park as a way to relieve traffic congestion on the regional freeway system and reduce air pollution.
Overall reduction in traffic back-ups across the greater-Phoenix area topped voters' list of reasons why they support the new freeway project.
Voters also cited the benefits to police and fire units, as well as the $2 billion boost to the economy in spending and jobs during construction as reasons for their support for the project.
"Voters want this project because it will absolutely reduce traffic congestion across the Valley and help reduce air pollution in the region," said David Martin, chairman of the We Build Arizona coalition.
Copyright 2013 CBS 5 (KPHO Broadcasting Corporation). All rights reserved.