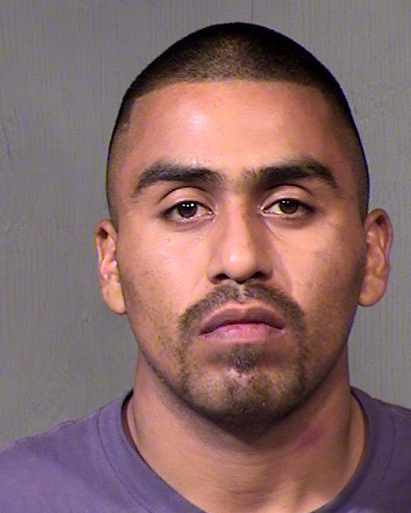 Victor Hernandez, arrested charged with second-degree Murder (Source: Phoenix Police)
PHOENIX (CBS5) -
An argument between two men left one man dead and one man running from Phoenix police Friday, May 10.
Neighbors called Phoenix police officers Friday night after they heard gunshots fired in the apartment complex at 3602 E. Monte Vista Dr. When officers arrived they found a blood trail leading to James Barney Wrona, 25, near 2200 N. 36th St. who had been shot.
Phoenix fire responded to the scene and pronounced Wrona deceased.

During the investigation of the shooting officers learned that another man, Victor Hernandez, 27, had been involved in an argument with Wrona when he was shot.
Officers were able to find evidence in Hernandez's apartment that he had been living in that connected him to the shooting of Wrona.
Hernandez was arrested on the evening of Tuesday, May 14 inside a car near 1600 N. 22nd Place.
Phoenix police said that Hernandez had a bus ticket to El Paso, TX on him at the time he was arrested.
Hernandez has been charged with second-degree murder and weapons prohibited possessor. He also had multiple warrants, including probation violation.

Copyright2013 CBS 5 (KPHO Broadcasting Corporation). All rights reserved.