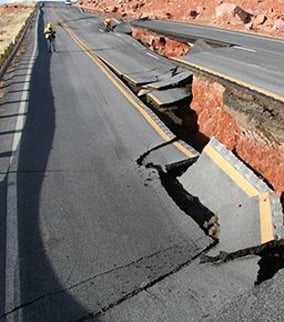 US 89 has been closed north of Bitter Springs and south of Page. (Source: ADOT)
PAGE, AZ (CBS5) -
The state Department of Transportation has begun paving a road that will serve as an alternate route to a buckled highway.
A 150-foot section of pavement on U.S. 89 south of Page buckled earlier this year in a landslide.
After breaking ground in late May, crews have been clearing debris and brush off the roadway, grading and installing water lines in preparation for paving work.
Paving N20 will significantly reduce travel time for motorists heading to and from Page and the Lake Powell area, ADOT said in a news release.
Currently, the primary detour is to take US 160 to State Route 98, which is about 45 miles longer than the direct route. The new detour route will shave half the distance and time to get to Page.
N20 will be temporarily adopted into the state's highway system once paving is complete and designated Temporary US 89 (US 89T). After the reconstruction of US 89 is complete, the newly paved US 89T will be returned to the control of the U.S. Bureau of Indian Affairs.
US 89 has been closed north of Bitter Springs and south of Page since Feb. 20 because of the landslide that buckled pavement on the mountain slope in the Echo Cliffs.
There is no timetable for reopening the damaged highway.
Copyright 2013 CBS 5 (KPHO Broadcasting Corporation). All rights reserved.