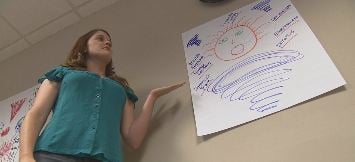 PHOENIX (CBS5) -
After the Tucson shooting, Magellan Health Services and the Arizona Department of Health Services teamed up to provide first aid training for people struggling with mental illness.

How do you handle a mental health emergency? How do you know if someone is having a panic attack? What resources can you suggest? All of these questions are addressed in a free, two-day course.

"It's just so easy to try to sweep it under the rug," said Wesley McCree. He said he came to the Mental Health First Aid Training knowing the impact mental illness can have on a family and a community.

"I found out here my wife was an alcoholic," McCree said. "Twenty-five years later, she committed suicide."

He and 30 or so other students met for two days to learn how to recognize the signs and symptoms of illnesses like anxiety disorders and depression and how to respond.

"It was something I was very interested in," said Katherine Tromba. She said her mother was killed by someone with a mental illness, and she chose to take the course to learn what we as a community can do to prevent such violent acts.

"We really focus on physical health and not concentrate on mental health," Tromba said.

"There's been a dramatic increase in requests for this," said Carlos Benjamin, who is an instructor. He tells teachers, healthcare providers - and anyone else who shows up to the course - to be genuine and acknowledge that mental illness is real and their feelings are real. But with treatment like self help, professional help or other resources, it can get better.

"Reduce stigma about mental illness and start to make it an acceptable thing for people to go and get a routine mental health screening as much as they would go and get a physical health screening," Benjamin said as the goal of the course.

"I think it starts with that, individuals that'll volunteer and just shut up and listen," McCree said.

The next course is in August. For more information, visit http://www.azdhs.gov/bhs/mhfa.htm.
Copyright2013 CBS 5 (KPHO BroadcastingCorporation). All rights reserved.