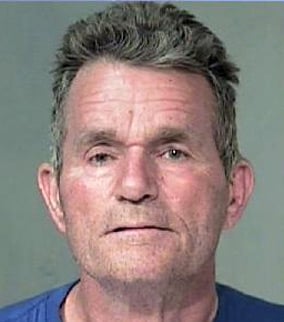 Robert Neese, 60, who eluded capture for more than 17 years, pleaded guilty May 7 to the second of two criminal cases brought against him. (Source: Maricopa County Sheriff's Office)
PHOENIX (CBS5) -
The man infamously known as the "rock burglar" will spend then next 22.75 years in prison.
Judge Pamela Svoboda sentenced Robert James Neese on Wednesday. A jury found him guilty on 15 counts in the case.
Neese addressed the courtroom at Wednesday's hearing. The state also called witnesses and victims to the stand to testify.
Neese, 60, eluded capture for more than 17 years. He pleaded guilty May 7 to the second of two criminal cases brought against him.

He previously pleaded guilty to eight counts of burglary and seven counts of theft and was facing more than 200 years in prison.
Neese earned his nickname through a series of high-profile crimes in which he used a rock to break glass doors or windows of homes in affluent neighborhoods in Paradise Valley, Scottsdale, Carefree and Fountain Hills and stole millions of dollars in property.
Copyright 2013 CBS 5 (KPHO Broadcasting Corporation). All rights reserved.