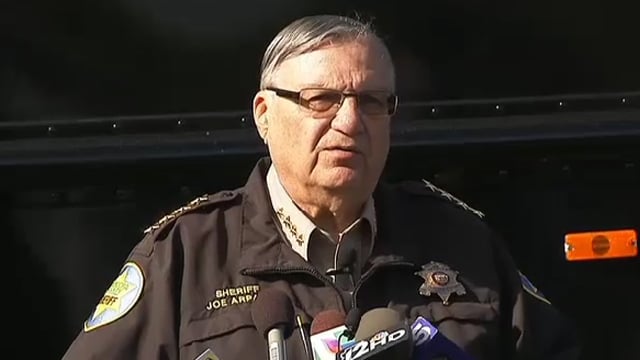 Maricopa County Sheriff Joe Arpaio (Source: CBS 5 News)
PHOENIX (CBS5) -
The Arizona Latino Caucus is urging the Maricopa County Board of Supervisors not to pay for Sheriff Joe Arpaio to appeal a federal court ruling that his agency racially profiled people.
A judge ruled last month that Arpaio's office has systematically singled out Latinos in its immigration patrols and that sheriff's deputies unreasonably prolonged the detentions of people who were pulled over, marking the first finding by a court that the agency racially profiles people.
"This practice is unethical and inappropriate, and he remains unapologetic," said Arizona Latino Caucus Chairman Rep. Martin Quezada. "The people of Maricopa County deserve better than that from their top law enforcement officer. It is time for him to resign." [Click here to read a letter the caucus sent to the board (PDF)]
Sen. Anna Tovar, D-Tolleson (District 19), who is the co-chair of the Arizona Latino Caucus, called on the board of supervisors to deny funds for Arpaio's appeal of the ruling.
"Joe Arpaio's 20 years as Maricopa County's chief law enforcement officer has cost taxpayers hundreds of millions of dollars," Tovar said. "It's time we stop bankrolling his incompetence and publicity stunts.
In a letter, the caucus shared an MCSO remediation plan with the board. The plan calls for:
An anti-racial profiling policy approved by the federal district court
An internal audit plan to review the extent to which sheriff's deputies are properly documenting traffic stops
An independent monitor to report on the implementation of the anti-racial profiling policy and the court's orders
A community outreach program
The sheriff has long denied the racial profiling allegations.
Copyright 2013 CBS 5 (KPHO Broadcasting Corporation). All rights reserved.