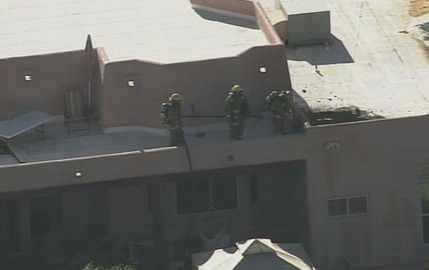 NEW RIVER, AZ (CBS5) -
A marijuana grow house located at 2229 E. Gaffney Rd. in New River caught fire Thursday morning, according to the Maricopa County Sheriff's Office.
The Daisy Mountain Fire Department was called out to what they believed was an attic fire at the home.
Firefighters fought the fire with water shortages because of the home's location.
A hole was cut in the roof to fight the fire and to assure that the fire was completely out.
MCSO found a marijuana grow operation inside the house after the fire was out. There were at least a dozen marijuana plants, according to MCSO.
It was determined that the fire began inside one of the marijuana grow rooms.
Firefighters said they observed a drip system, lighting, heaters and the room was sealed wall-to-wall with Styrofoam insulation.
No one was home at the time of the fire.
Copyright 2013 CBS 5 (KPHO Broadcasting Corporation). All rights reserved.