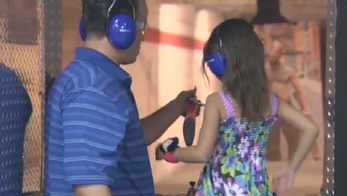 National Take Your Daughter to the Range Day at Shooter's World in the Valley. (Source: CBS 5 News)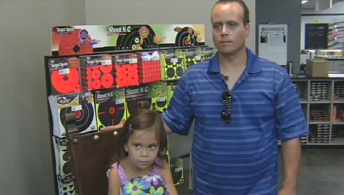 Robin Lynn Durfee and her father, Christopher. (Source: CBS 5 News)
PHOENIX (CBS5) -
The second annual "Take Your Daughter to the Range Day" was held at Shooter's World in Phoenix over the weekend.
The national event was aimed at promoting gun safety through education. It also enabled families "to spend quality time together through this experience," according to a news release distributed by Shooter's World.
"As a female working in the firearms industry, it is a pleasure to be able to host an event such as this that will allow young ladies of all ages to learn the importance of safe firearms handling while hopefully empowering them to make their mark on a formerly male-dominated sport," said Shooter's World owner and CFO Lisa Roux.
"We truly hope our customers will take this opportunity to introduce their daughters to shooting, or continue to help them grow their shooting skills, in a safe and fun environment," Roux added.
Christopher Durfee was one of the dads who took his daughter, Robin Lynn, to the shooting range. He said the highlight was "seeing her nail the target in the head three times."
Both Shooter's World locations in the Valley hosted the event on Saturday. Each daughter that participated received free instruction from an NRA certified instructor, free use of a firearm, free targets and eye and ear protection.
Copyright 2013 CBS 5 (KPHO Broadcasting Corporation). All rights reserved.