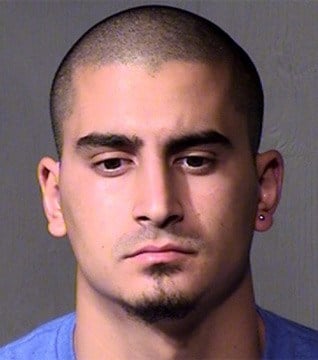 Vroury Manoukian
PHOENIX (CBS5/AP) -
An Arizona man pleaded not guilty to killing and then burning the body of his roommate.
Vroury Manoukian made the plea to second-degree murder charges in Maricopa County Superior Court on Monday.
The 22-year-old man's next court date will be July 31 before Commissioner Steven Lynch.
Manoukian was arrested earlier this month in connection with the brutal death of 24-year-old Matthew McMasters. Police said he died from blunt force trauma to the head.
The charred body of McMasters was found tied to the remains of a love seat and other furniture items last July in the desert near the Black Canyon Highway in far north Phoenix.
Police said witnesses identified Manikin's sport utility vehicle leaving the scene of the fire and blood stains were found inside matching that of the victim.
McMasters had been living with Manoukian and Randall Lee Young. Family members said the victim, Manoukian and Young had been in a fight. Manoukian allegedly broke it up by striking McMasters in the head, family members said.
Copyright 2013 CBS 5 (KPHO Broadcasting Corporation). All rights reserved. The Associated Press contributed to this report.