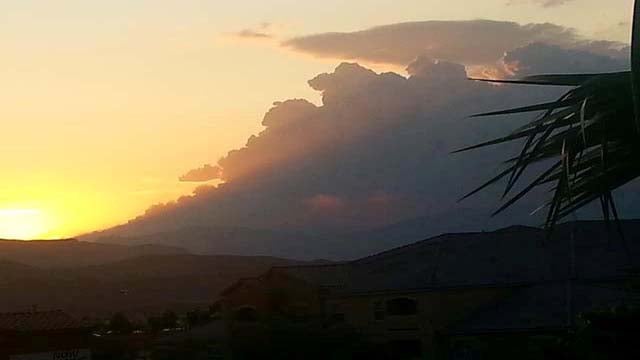 Sunset shot of the Carpenter 1 fire. (Tara Hanson)
MT. CHARLESON (FOX5) -
The Las Vegas Ski and Snowboard Resort on Monday postponed the Rock the Canyon Rally, which had been set for Saturday and Sunday.
The Carpenter 1 fire, which probably won't even be fully contained for another week, has forced the closure of the ski resort for now.
The family-friendly event is presented by the Black Patch Motorcycle Club and benefits local nonprofit You Got the Power. The event will be rescheduled for later this summer.
While Las Vegas Ski and Snowboard Resort said the fire has not done any property damage there, roads to the area have been closed since July 4.
"Las Vegas Ski and Snowboard Resort is focused on providing ongoing support to the U.S. Forest Service and firefighters who are working to contain the fire and protect Kyle, Lee and Trout canyons. We have supplied water from our snowmaking pond to assist in firefighting efforts during this time of crisis," said Las Vegas Ski and Snowboard president and general manager Kevin Stickelman.
The resort is providing updated information on its Facebook and Twitter accounts.
Copyright 2013 KVVU (KVVU Broadcasting Corporation). All rights reserved.