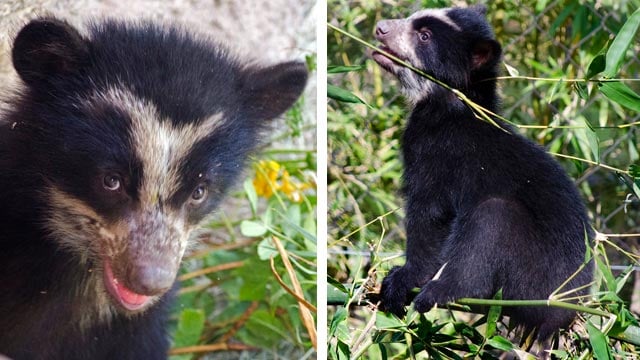 Andean bear cub, Luka. (Source: Phoenix Zoo)
PHOENIX (CBS5/AP) -
The Phoenix Zoo's 6-month-old Andean bear cub has make his formal public debut.
Tuesday was the official coming out party for Luka, although he's been exploring his outdoor habitat for the past week or so, said Linda Hardwick of the Phoenix Zoo.
Luka will be living at the Andean bear exhibit at the Phoenix Zoo, and a small kiddie pool filled with ice will be waiting for him, Hardwick said.
Luka likes to climb, which is a trait common for Andean bears that live among the trees in the Andes mountains of South America.
The Phoenix Zoo's bear habitat has been closed since January, when Luka's mother, Rio, gave birth to him.
Luka and Rio stayed indoors for months as keepers waited for signals from the mother that she was ready for her cub to move outside.
At a little older than 6 months now, Luka weighs about 25 pounds.
If he's a typical male Andean bear, he will top out around 250 pounds.
Copyright 2013 CBS 5 (KPHO Broadcasting Corporation). All rights reserved. The Associated Press contributed to this report.