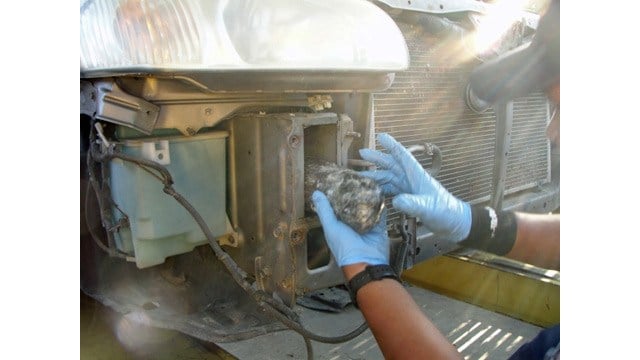 More than 12 pounds of methamphetamine were contained in the frame and bumper of a car stopped at the Port of San Luis on Monday. (Source: Customs and Border Protection)
SAN LUIS, AZ (CBS5) -
U.S. Customs and Border Protection officers arrested a man from Mexico in connection with a failed attempt to smuggle more than 12 pounds of methamphetamine into the U.S.
Agents arrested Victor Alfonso Payan-Beltra, 29, of San Luis, Rio Colorado, Sonora, Mexico, after his car was flagged for inspection at the Port of San Luis on Monday, the CBP said Wednesday.
A CBP drug-sniffing dog indicated drugs were in the frame and front bumper of the Nissan sedan driven by Payan-Beltran, according to a CBP news release.
Officers found 12 packages of meth valued at nearly $193,000.
Payan-Beltra was turned over to U.S. Immigration and Customs Enforcement and the drugs and vehicle were seized.
Copyright 2013 CBS 5 (KPHO Broadcasting Corporation). All rights reserved.