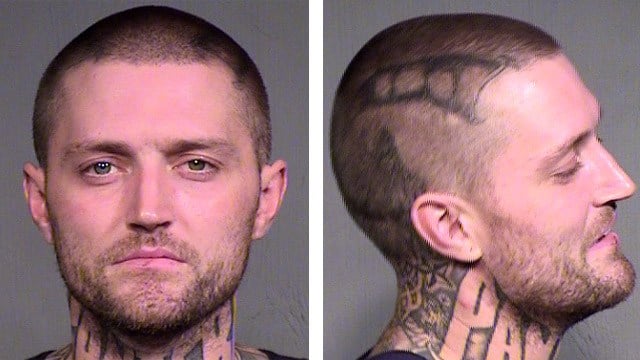 Tyler Day is suspected of a string of residential and vehicle burglaries in the Dobson Ranch area of Mesa. (Source: Mesa Police Department)
MESA, AZ (CBS5) -
Mesa police said they believe they have solved a string of vehicle and residential burglaries after catching a suspect sprinting out the door of a home he was suspected of burglarizing early Tuesday morning.
Officers said they caught 28-year-old Tyler Alan Day as he burst through the front door of a condominium unit while the homeowners slept about 4 a.m. Tuesday.
Police said they were tipped off that someone was trying to open doors at the complex near Dobson and Baseline roads.
Officers said they learned a number of residents in the area had also been burglarized that night.
Police found Day's vehicle nearby with the engine running and loaded with what would later be identified as stolen property, drugs and weapons, they said.
Day was booked into jail on numerous felony charges involving burglary, drugs and weapons charges.
Police said they believe Day is suspected of additional burglaries in the Dobson Ranch area, and their investigation continues.
Copyright 2013 CBS 5 (KPHO Broadcasting Corporation). All rights reserved.