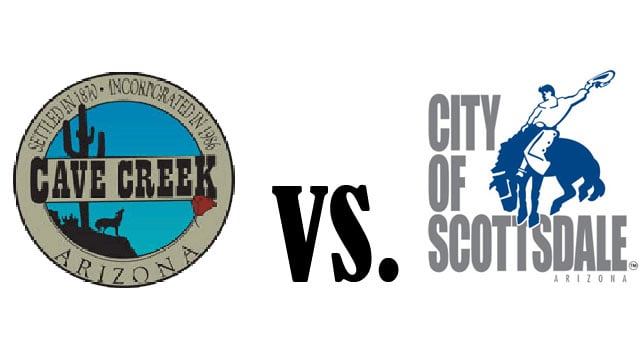 PHOENIX (CBS5) -
Bar the doors and grab the women, children and innocent bystanders off the streets. There's a duel a'brewin' in Cave Creek.
The Town Council on Monday will present a challenge to Scottsdale for the designation as the "West's Most Western Town."
Scottsdale has labeled itself the "West's Most Western Town" since it adopted the slogan in 1947, but Cave Creek is looking to steal that moniker away during its Wild West Days on Nov. 1-3.
A Cave Creek resolution that will be presented at its regular council meeting at 7 p.m. Monday points to several businesses, landmarks and events in the town that rival, if not best, those in Scottsdale for claim to that slogan.
For instance:
Cave Creek claims it doesn't need an "Old Town" area as does Scottsdale because "the whole town is an old town."
Cave Creek as the "Buffalo Chip Saloon that offers live bull riding.
The town is so western that "True West" magazine is published in Cave Creek.
Cave Creek DOES NOT HAVE car dealerships, plastic surgeons, tanning salons, airports, Segway tours, red-light cameras, spring training facilities, flip-flop shops, sunglass huts, buildings higher than two stories or condos the size of two-bedroom studio apartments that start at $1.5 million.
To settle the matter once and for all, the Cave Creek council, in the spirit of friendly competition, issued the following challenges to Scottsdale city officials in the resolution:
Cave Creek Town Manager Rodney Glassman challenges Scottsdale City Manager Fritz Behring to a Bull Riding Showdown at the Buffalo Chip on at 8 p.m. Friday, Nov 1.
Cave Creek Mayor Vincent Francia challenges Scottsdale Mayor Jim Lane to a "Quick Draw Shootout" in the parking lot of the "Horny Toad" at high-noon Saturday, Nov. 2.
Cave Creek Vice Mayor Adam Trenk and his Town Council Posse challenge Scottsdale Vice Mayor Suzanne Klapp and her City Council to a match of "horse soccer" at the "Hogs & Horses" arena at 1 p.m. Saturday, Nov 2.
Cave Creek Town Clerk Carrie Dyrek challenges Scottsdale City Clerk Carolyn Jagger to an old-fashioned Pig Race at Harold's Corral at 3 p.m. Saturday, Nov 2.
There was no immediate word from Scottsdale officials as to whether they will show for the duel, but the Pony Express had yet to leave on its route.
Copyright 2013 CBS 5 (KPHO Broadcasting Corporation). All rights reserved.