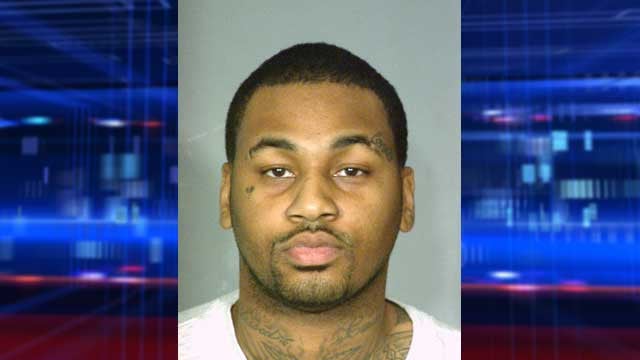 Ammar Harris, pictured in a booking photo in April 2013. (LVMPD)
LAS VEGAS (FOX5) -
The man accused in a deadly shooting and fiery wreck on the Las Vegas Strip faces the start of a jury trial in an unrelated sexual assault case.
The start of a trial for Ammar Harris, 27, is slated for 3 p.m. Wednesday in Clark County District Court.
Harris pleaded not guilty to three counts of sexual assault and robbery to a 2010 incident.
Harris has been in custody at Clark County Detention Center since April after being the subject of a manhunt in the Strip shooting and fiery crash that killed three people in February.
Las Vegas Metro police named him as the person behind the wheel of a Range Rover from which shots were fired at a Maserati driven by Kenneth Cherry Jr.
Police said Cherry was struck by bullets in the early morning shooting, causing him to accelerate into the intersection at Flamingo Road and Las Vegas Boulevard. The Maserati then struck a taxi cab occupied by driver Michael Bolden and Sandra Sutton-Wasmund. Police said the two in the taxi died as a result of the fiery wreck.
The Clark County District Attorney's office indicted Harris in April on charges of murder as well as the 2010 sexual assault case.
Harris faces a December trial date related to the Strip shooting case. The district attorney's office said it will pursue the death penalty for Harris in the Strip shooting case.
Copyright 2013 KVVU (KVVU Broadcasting Corporation). All rights reserved.