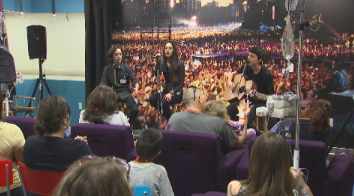 (Source: CBS 5 News)
PHOENIX (CBS5) -
A set of teen triplets are giving back to Phoenix Children's Hospital, crediting the center for saving their lives 14 years ago.
Phoenix Children's Hospital is celebrating 30 years of helping sick kids and their families, and Alex, Sela and Ari Poulos are on a mission to help others. They were born premature and spent five weeks in the intensive care unit.
"It was awful, but I felt so reassured and so safe because of the staff and the nurses and they all became our family," said their mother, Shelli Poulos.
Now the Poulos family often returns to PCH. In June, they gave the hospital money raised during one of their concerts and now the siblings who formed the band "TripleFirre" are performing their original song, "I Will Run Again" at the hospital.
Susan Arvallo is happy to see them. In May her world turned upside down when doctors discovered a cancerous tumor in her daughter, Giselle's abdomen.
"It's a little stressful so you know we just kind of take it day by day," Arvallo said.
Arvallo appreciates the teens and hopes she can return to Phoenix Children's Hospital with an inspiring story.
TripleFirre has a music producer and they plan to release their sons to music labels when they're ready.
Copyright 2013 CBS 5 (KPHO Broadcasting Corporation). All rights reserved.