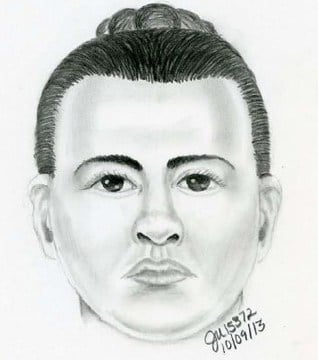 Pinal County deputies are looking for the woman in this sketch and her accomplice, suspected in a Sept. 25 home invasion in San Tan Valley. (Source: Pinal County Sheriff's Office)
FLORENCE, AZ (CBS5) -
Pinal County deputies are looking for two women who attacked and robbed a San Tan Valley woman in her home on Sept. 25.
The woman told detectives she was at home that evening and answered a knock at her door. Two women she did not know forced themselves into her home and attacked her, according to Tim Gaffney of the Pinal County Sheriff's Office.
She said one of the woman tried to wrap a bra and other items around her neck to choke her and continued to fight with her while the other woman took items from the home near North Gantzel and West Chandler Heights roads, Gaffney said.
The suspects then ran from the home in an unknown direction, Gaffney said.
The victim suffered minor injuries and needed stitches to close a head wound, but her injuries were not life-threatening, Gaffney said.
The victim was able to give deputies a description of only one of the women: a white or light-skinned Hispanic in her late 20s, 5'6" to 5'7" tall, 180 to 200 pounds, brown hair and eyes, shoulder length hair pulled into a pony tail and wearing a black shirt and shorts.
Gaffney said there was no motive for the attack.
Anyone with information about the suspects or the incident is asked to call the Pinal County Sheriff's Office at 520-866-5111 or 1-800-420-8689.
Copyright 2013 CBS 5 (KPHO Broadcasting Corporation). All rights reserved.