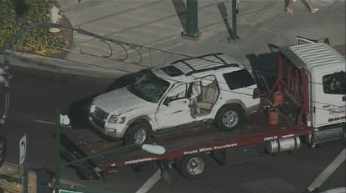 © CBS 5 News
PHOENIX (AP) -
Three people were injured after the driver of an SUV allegedly ran a red light and collided with a light rail train in downtown Phoenix.
Phoenix Fire Department officials said the 57-year-old driver of the SUV was taken to a hospital and designated as a trauma patient.
The other two people weren't seriously injured.
The crash occurred about 3 p.m. Wednesday at Central Avenue and Roosevelt Street.
Fire officials said the SUV was T-boned by the train and light rail riders had to force the train's doors open to get out.
Stay with cbs5az.com and CBS 5 News for updates on this developing story.
[Click here to sign up for breaking news alerts]
Copyright 2013 Associated Press. All rights reserved.