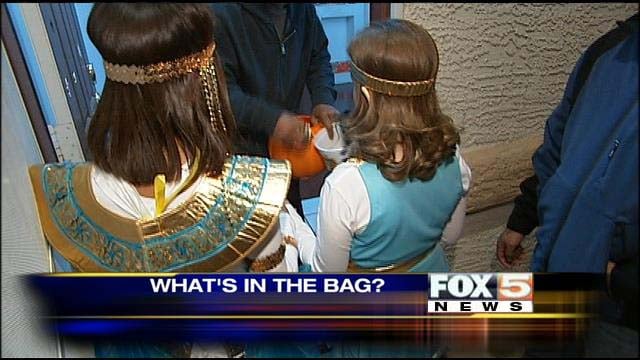 Surprisingly, most kids eschew healthful snacks on Halloween. (FOX5)
HENDERSON, NV (FOX5) -
"Trick-or-treat!"

The slogan of Halloween sounds sweet coming from kids in adorable costumes, but when they say it, it's a demand for the person at the door to hand over some sugary goodness.

We found out if you're not giving out high quality candy on this night, most parents and all kids said don't even bother opening the door.

"If you don't have candy, what's the point of trick-or-treating?" asked a girl dressed as a clown.
"Kids don't want healthy stuff, that's not what it's all about," said a man handing out candy from his Henderson driveway.
Thursday night we followed several groups of kids in costume and asked about their worst treats.
One boy dressed as a Minecraft character gave some stickers he received a thumbs down.

When another got pistachio nuts, a boy said, "They're nasty."

The strangest treat we came across though was some precut apple slices from Costco.

"I'll take one bite, not like it and throw it away," said the ninja who got them.

One parent admitted to us he gave out pretzels.

"They're shaped like pumpkins and bats so it's kinda cool," he said.

A Henderson home may have crossed the line posting a sign that read, "Candy is unhealthy. Don't bother knocking."
Other kids' picks for the worst candy were a bit strange. One didn't like M&M's, and another passed on peanut M&M's.
Copyright 2013 KVVU (KVVU Broadcast Corporation). All rights reserved.