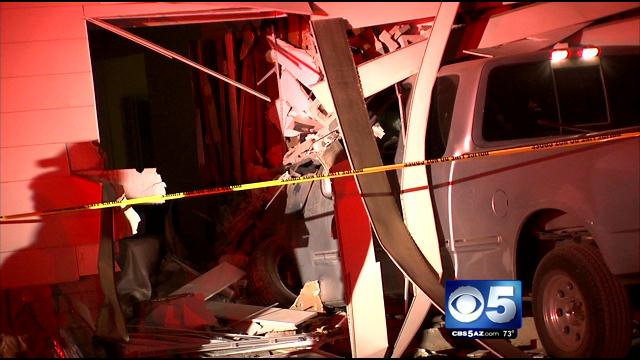 © CBS 5 News
PHOENIX (CBS5) -
An out-of-control driver in Phoenix took out a fence, a brick wall, and then plowed into a house, narrowly missing the woman who lives there, police said.
The 65-year-old woman was watching TV in a different room when the driver smashed into the home near 47th Avenue and Indian School Road on Friday night.
The driver tried to run away but neighbors tackled him and held him down until police got there.
The displaced homeowner is now staying with a fellow church member.
"She was just glad she wasn't there," said Jack Foulk. "It was at 9:30 p.m. when it was hit, so she hadn't gone to bed, but if she would have been in bed her head would have been against that wall."
The house did suffer major structural damage.
The homeowner is hoping insurance will take care of it.
Police said the driver may have been impaired.
Copyright 2013 CBS 5 (KPHO Broadcasting Corporation). All rights reserved.