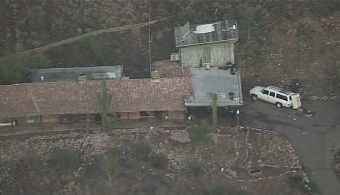 © CBS 5 News
NEW RIVER, AZ (CBS5) -
The Starflash Ranch in New River was a storehouse of explosive material long before an explosion gravely injured a ranch occupant Monday night.
The property once belonged to Charles Byers, who stored munitions and chemicals on the ranch in the 1980's. Byers lost his license to manufacture munitions in 1990, after he was convicted of bribery.
In 1997, agents with the Bureau of Alcohol, Tobacco and Firearms seized the property and began dismantling the munitions, chemicals and ordnance. Neighbors say they heard multiple blasts and explosions in the days that followed.
The ATF and EPA reported that 800 pounds of chemicals and explosives were too unstable to move. That started an 18 month dispute with neighbors, who said they were afraid that disposing the chemicals on site could harm their health.
After spending $1.5 million, the EPA moved out and the state of Arizona took over the final states of the cleanup. In 1999, Governor Jane Hull declared the site "safe."
Copyright 2013 CBS 5 (KPHO Broadcasting Corporation). All rights reserved.