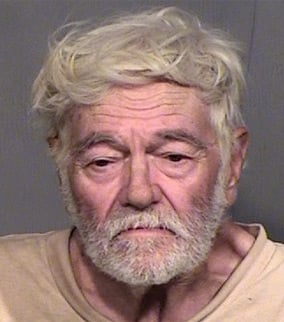 Alva Conrad Stout is the first three family members who will be sentenced for abuse in the July 14 death of 73-year-old Lola Mae Stout. (Source: Maricopa County Sheriff's Office)
PHOENIX (CBS5) -
A man who admitted to abuse in his wife's death in Arizona in the back of a filthy van carrying 35 emaciated animals has been sentenced to two years of probation.
Alva Conrad Stout was the first three family members who will be sentenced for abuse in the July 14 death of 73-year-old Lola Mae Stout.
A Maricopa County Superior Court spokesman says Alva Stout was sentenced Wednesday by Judge Warren Granville.
Alva Stout and his two adult sons told investigators they were traveling from Quartzsite to Phoenix when Lola Mae Stout collapsed as she was being loaded into a van.
Three didn't seek medical care and instead drove to Phoenix, where Lola Mae Stout was pronounced dead.
She had health issues, including earlier strokes, high blood pressure and schizophrenia.
Copyright 2013 Associated Press. All rights reserved.