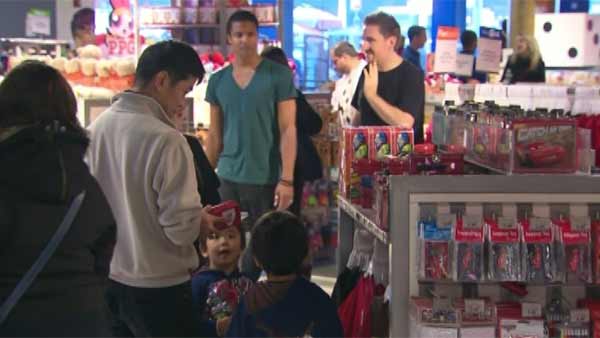 PHOENIX (CBS5) -
Arizona consumers will actually pay for what they should be getting for those holiday super bargains and one-of-a-kind deals, says the Arizona Department of Weights and Measures.
As Black Friday approaches, inspectors went out to ensure that advertised prices - in the stores, in print, by voice or online - and the availability of inventory and actual prices matched up. In all, 38 retail businesses were audited, the department said, including department stores, big box membership, sporting goods and pet stores.
The unannounced inspections resulted in a 99.3 percent compliance rate, according to the department.
Inspectors found only 11 items that were charged more than the advertised discount prices, and 62 items that were less than the advertised price.
"During the busy holiday season, Arizona consumers should be thrilled at these inspection results" said Kevin Tyne the Director of the Department of Weights and Measures. "It's evident Arizona retailers are working hard to provide their customers with accurate prices and are serious about ensuring a clear and concise pricing program throughout Arizona."
Weights and Measures also offered the following "consumer tips" to help make every consumer a "smart shopper" and help avoid any unnecessary aggravations:
For products advertised in the newspaper or on the internet, take the advertisement with you. Read the advertisement disclaimers such as "internet prices only."

Pay attention to the dates of the sale and be aware that the fine print may indicate "only one per person" or that the sale price is contingent on either the "purchase of another item" or "applies if you spend a certain dollar amount" or "at participating stores only."

Shoppers should do their homework before leaving to shop. Verify the item is in stock and check to see if their store is participating in the sale.

Be familiar with a store's return policy; if you are buying something nearly a month in advance then be aware of the return deadline.

If there is a discrepancy, the Weights and Measures said shoppers should save their receipt so they can broach any contradiction directly with store management.
If consumers want to file a complaint for follow up, they can do so directly with the department at www.azdwm.gov.

Copyright 2013 CBS 5 (KPHO Broadcasting Corporation). All rights reserved.