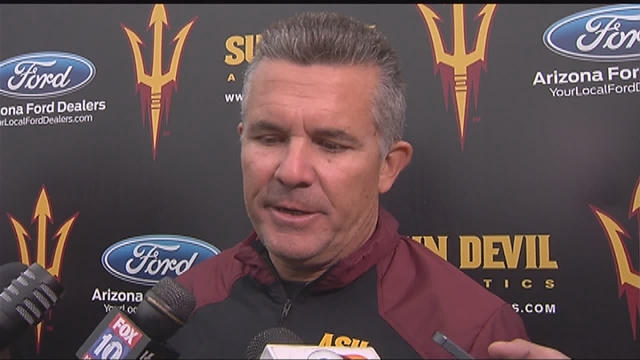 Todd Graham
TEMPE, AZ (CBS5) -
Talk about a good few weeks for ASU's head football coach Todd Graham. Forget the wins on the field, his wallet is getting fuller with cash. On top of his $2.3 million dollar salary, he clinched the PAC 12 South Conference title. That gave him a $230,000 bonus. One week later, ASU beat UA for the team's 10th win, bringing in another $150,000. On Monday, he was named coach of the year, which earned him another $50,000.
"This is built into a contract, and he's reaping the rewards just as a professional golfer would or an actor whose movie sales are up," said Doug Tammaro, an assistant Athletic Director at ASU.
Tammaro also mentioned why he believes it's important for the football program to thrive at many schools, and it's no different than at ASU.
"The fact is that 20 of our 22 sports will not make money this year, and a lot of that is you know, they can't sell tickets to a game. Football drives a bus. It drives most of the buses across the country, in terms of our athletic department," he said.
On top of the bonuses Graham has already taken in, there is the possibility of much more. CBS 5 was able to get a hold of his current contract. Here's the breakdown.
If Graham win's this Saturday's PAC-12 Conference championship, he'll earn another $230,000.
That would also give him an 11th regular and post-season win, for another $100,000.

The win would mean an appearance in the Rose Bowl, a major bowl game. That means another $345,000
If ASU wins the Rose Bowl, Graham would take home another $230,000.
It would also be a 12th win, which means another $100,000.

The team would also be eligible for ranking in final polls. A top 5 ranking would earn Graham another $69,000.
Tammaro says some of the money does come from tuition, but most is from ticket sales and booster clubs.
Copyright 2013
CBS5
(KPHO Broadcasting Corporation). All rights reserved.