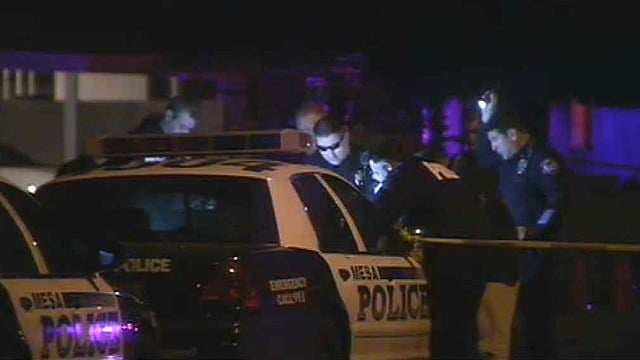 Mesa police officers were investigating a shooting Monday evening. (Source: CBS 5 News)
MESA, AZ (CBS5) -
A 22-year-old man was hospitalized after he was shot during an altercation at a house in Mesa on Monday evening.
The man showed up at a home in the 1400 block of 3rd Avenue about 5 p.m. and was confronted at the front door when shots were fired, said Mesa police Sgt. Tony Landato.
Landato said it was unclear if it was just one person shooting or whether shots were exchanged, but the 22-year-old man was wounded in his lower body.
He got back into his car and drove back to his home a few blocks away and an ambulance was called, Landato said. He was taken to a hospital with non-life-threatening injuries.
The 21-year-old resident of the home was involved in the shooting, Landato said, but no suspects were in custody as of Monday night.
Landato said one weapon was found at the house.
"But we have more questions than answers at this point," Landato said.
No other information was immediately available.
Copyright 2014 CBS 5 (KPHO Broadcasting Corporation). All rights reserved.