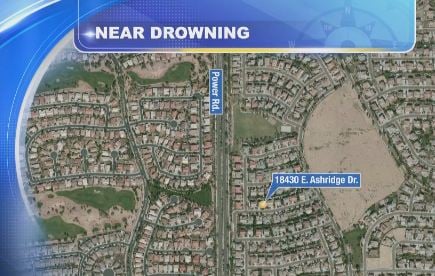 PHOENIX (AP) -
Authorities say a Queen Creek toddler is recovering after nearly drowning in a backyard swimming pool.
The Maricopa County Sheriff's Office says the 1-year-old girl is in stable condition at a hospital after falling into the unfenced pool Friday evening.
Sheriff's spokesman Chris Hegstrom says a 13-year-old sibling was watching the girl and three other children while their mother went to pick up another child.
Hegstrom says at about 6 p.m., a 4-year-old sibling found the toddler in the pool and notified the teenager.
He says the 13-year-old pulled the girl from the pool and called the mother.
The mother performed CPR until paramedics arrived.
The sheriff's office says no charges will be filed against the mother.
Copyright 2014 Associated Press. All rights reserved.