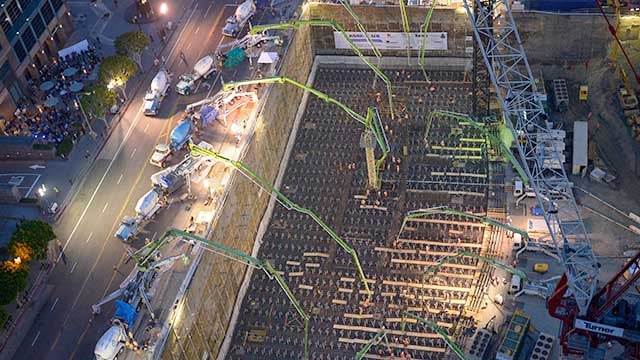 Crews pour concrete to lay the foundation for the New Wilshire Grand building in a record attempt for the largest continuous concrete pour in history, Saturday, Feb. 15, 2014, in downtown Los Angeles. (AP Photo/Mark J. Terrill)
LAS VEGAS (FOX5) -
A building under construction in Los Angeles stole a record from a Las Vegas locale Sunday.
At 11:15 a.m., workers at the site of the Wilshire Grand, a 73-story hotel and office town under construction in LA, broke the record for the largest continuous concrete pour, according to KTTV-TV.
According to the FOX affiliate, crews poured 21,200 cubic yards of concrete in just over 18 hours. The 82 million pounds of the composite material was used to lay the foundation for the massive structure.
The previous record of 21,000 cubic yards was held by the concrete pour used to build the foundation of the Venetian Hotel and Casino in Las Vegas.
When it is completed in 2016, the Wilshire Grand is expected to steal another record from Las Vegas - the tallest building west of the Mississippi River. That record is currently held by the Stratosphere Tower on the Las Vegas Strip at 1,149 feet tall.
Copyright 2014 KVVU (KVVU Broadcasting Corporation). All rights reserved.