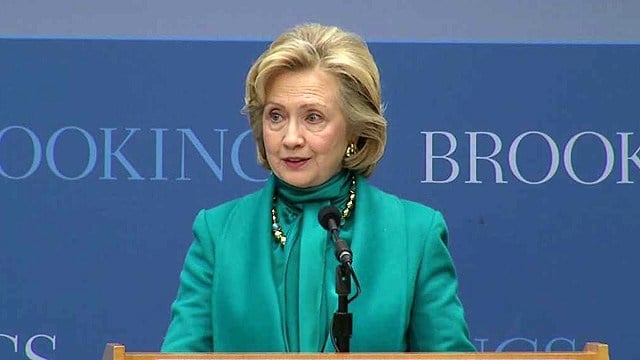 Former U.S. Secretary of State Hillary Rodham Clinton will participate in the McCain Institute's annual Sedona Forum on Saturday. (Source: CBS 5 News)
PHOENIX (CBS5) -
Former U.S. Secretary of State Hillary Rodham Clinton will participate in the McCain Institute's annual Sedona Forum on Saturday.
The McCain Institute for International Leadership at Arizona State University announced Clinton's participation Thursday morning.
"From her years of service as first lady, in the U.S. Senate and at the State Department, one would be hard-pressed to find a leader with Secretary Clinton's informed perspective on the many challenges facing America across the globe," Sen. John McCain, R-AZ, said.
The Sedona Forum is the McCain Institute's annual gathering of national and international thought-leaders, decision-makers, business leaders, philanthropists, activists and experts. They discuss approaches and solutions to real-world problems from the starting assumption of character-driven leadership and core democratic values, according to an institute news release.
The Sedona Forum 2014 will focus on "Crisis in the Middle East: Values, Strategy and Options," and will also include sessions on Russia and Ukraine and on combating human trafficking.
In addition to Clinton, McCain and ASU President Dr. Michael Crow, participants include:
U.S. Deputy Secretary of State Ambassador William J. Burns
U.S. Sens. Kelly Ayotte, R-NH, Bob Corker, R-TN, Heidi Heitkamp, D-ND, Angus King, I-Maine, Amy Klobuchar, D-MN, retired Jon Kyl, R-AZ, and Sheldon Whitehouse, D-RI
GE Chairman and CEO and McCain Institute Board Member Jeff Immelt
Walmart-USA U.S. President and CEO Bill Simon
Chevron President and CEO John Watson
Fedex President and CEO Fred Smith
Hewlett-Packard President and CEO Meg Whitman
Minister of Justice and Attorney General of Canada Peter MacKay
Foreign Minister of Lithuania Linas Linkevicius
Former Russian Prime Minister Mikhail Kasyanov
Founder of Education for Employment Ron Bruder
Former CENTCOM Commander James Mattis
U.S. and international policy experts
Prominent civil society, women's rights and democracy activists
Copyright 2014 CBS 5 (KPHO Broadcasting Corporation). All rights reserved.