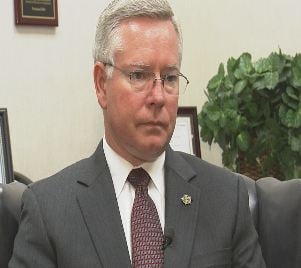 Maricopa County Attorney Bill Montgomery
PHOENIX (CBS5) -
There have been a lot of complaints from political leaders and humanitarian groups about hundreds of unaccompanied immigrant minors being sent to Arizona.
But according to Maricopa County Attorney Bill Montgomery, it's not only bad policy, it may be illegal.
Montgomery just sent a letter to the U.S. Immigration and Customs Enforcement (ICE) office, alerting officials to possible criminal violations for transferring illegal immigrant women and children to Arizona from Texas.
A portion of the letter stated:
"I write to advise you of potential violations of Arizona's laws prohibiting child abuse.
"I urge you to first cease and desist any operation that places the health and welfare of any child, unaccompanied or not, at risk."
Montgomery said the letter is intended to send a strong message to Washington, DC.
"Do not drop off unaccompanied minors under these circumstances in June, in the middle of the desert," said Montgomery. "If you do so, you will potentially be in violation of Arizona laws against child abuse. You are now on notice. If you do not stop the policy and this action of transferring women and children and unaccompanied minors from Texas to Arizona, there are consequences you may face."
Copyright 2014 CBS 5 (KPHO Broadcasting Corporation). All rights reserved.