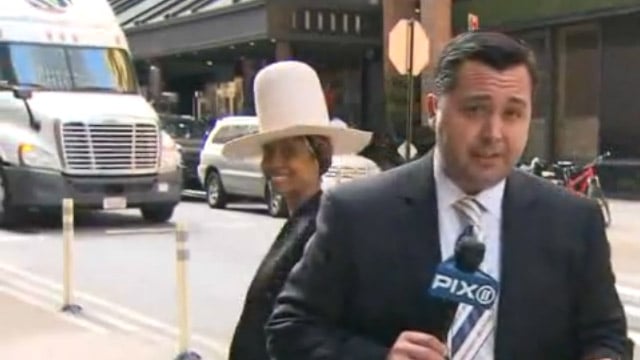 ATLANTA (CBS46) -
Every television reporter has had to deal with passer-bys trying to get attention by doing crazy things behind them live on camera.
But this time, it's a celebrity who tried to disrupt a New York City reporter's live shot.
WPIX reporter Mario Diaz was reporting live on actor Shia LaBeouf's bad behavior during the 5 p.m. newscast. That's when singer Erykah Badu, wearing an enormous white hat, strolls behind Diaz's live shot.
At first, Badu just walks back and forth behind Diaz smiling brightly for the camera.
Then Badu goes in for a kiss.
Diaz calmly moved the singer to the side and kept on reporting his story.
Copyright 2014 WGCL-TV (Meredith Corporation). All rights reserved.